UPCOMING
Litro Online Masterclass: Novel Writing: The Secrets for Success
October 2021
I'm excited to be doing an online Masterclass for Litro Magazine! The day course will examine the fundamental building blocks of a strong, compelling (and ready-to-submit) novel. Areas covered include pace and characterisation – with special focus on building tension and suspense – as well as the editing and submission process. The course is suitable for both beginners and those who have started writing but would love additional tips and direction.
You can register for the Masterclass here.

Emirates Airline Festival of Literature 2022
Thursday 3 February – Saturday 12 February 2022
Dubai, United Arab Emirates
PREVIOUS
Public Reading at Château de Lavigny, Switzerland
Sunday 25 July 2021
18:00: I'm excited to be reading from Future Perfect to a live audience!
Château de Lavigny, Route d'Etoy 10, 1175 Lavigny, Switzerland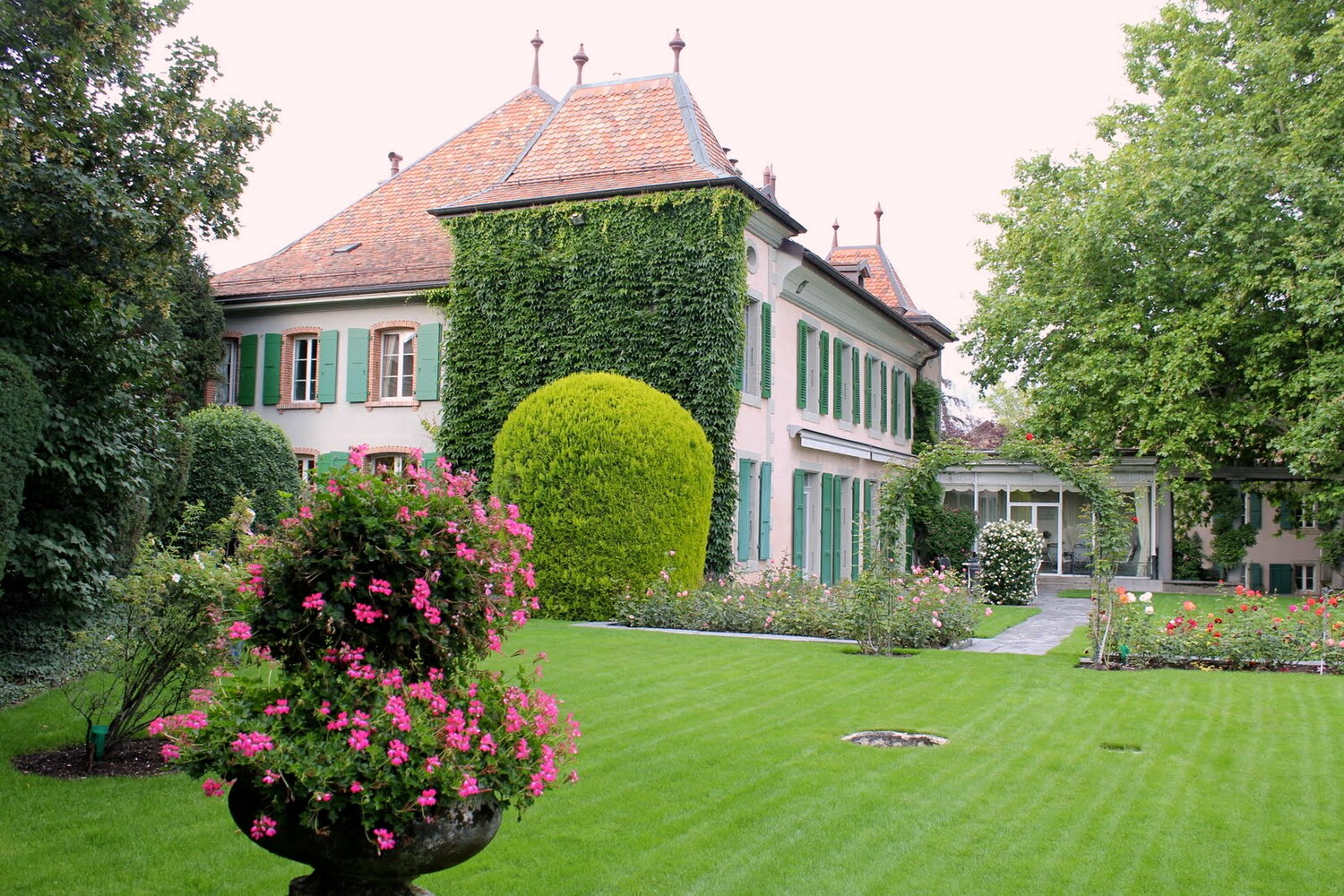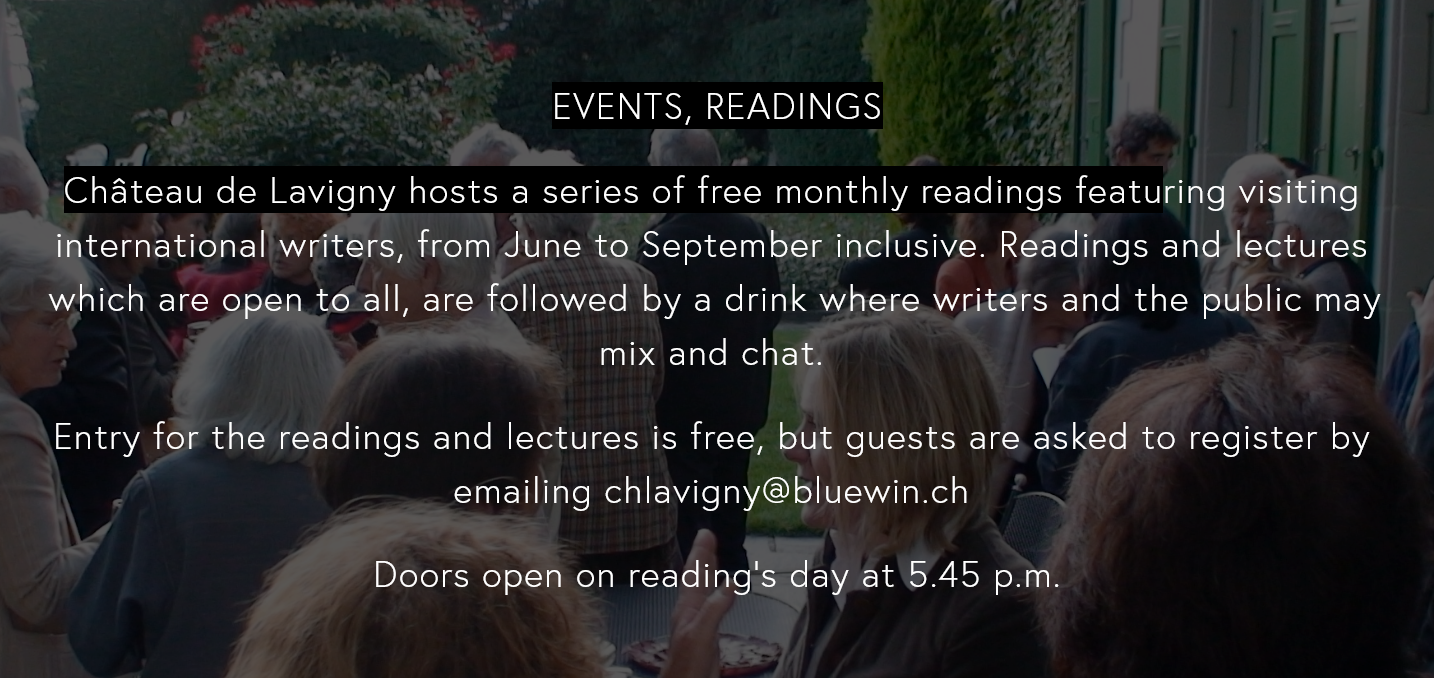 Word Online 2021, Literature Works
Thursday 22 July 2021
"Writing a Thriller: The Secrets of Suspense"
A talk by Felicia Yap hosted by Bournemouth, Christchurch & Poole Libraries
18:00-19:00 (GMT), free online event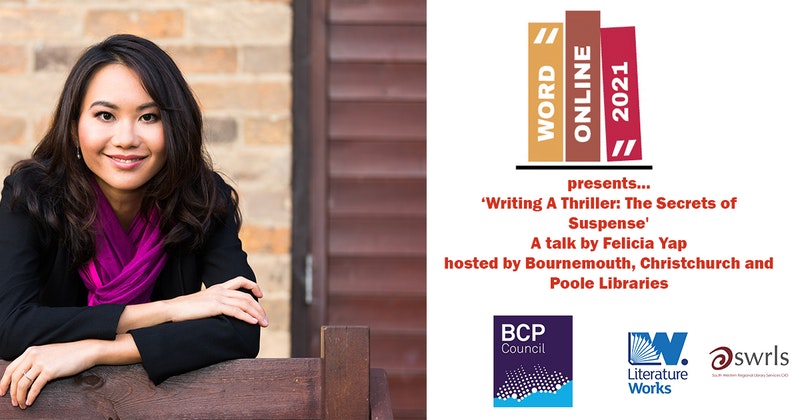 The Stay-at-Home! Literary Festival
Wednesday 28 April 2021
"Secrets and Lies: Three Thriller Authors Reveal Dark Truths": Felicia Yap, Erin Kinsley & Harriet Tyce, chaired by Carolyn Jess-Cooke
19:00-20:00 (GMT), free online event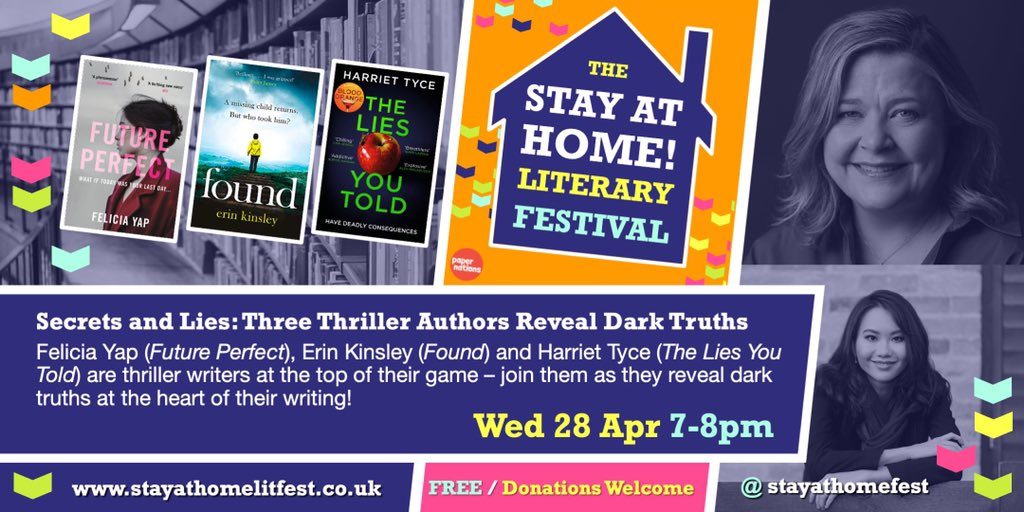 In Conversation with Exeter Library
Tuesday 23 March 2021
19:00-19:45 (GMT), now on YouTube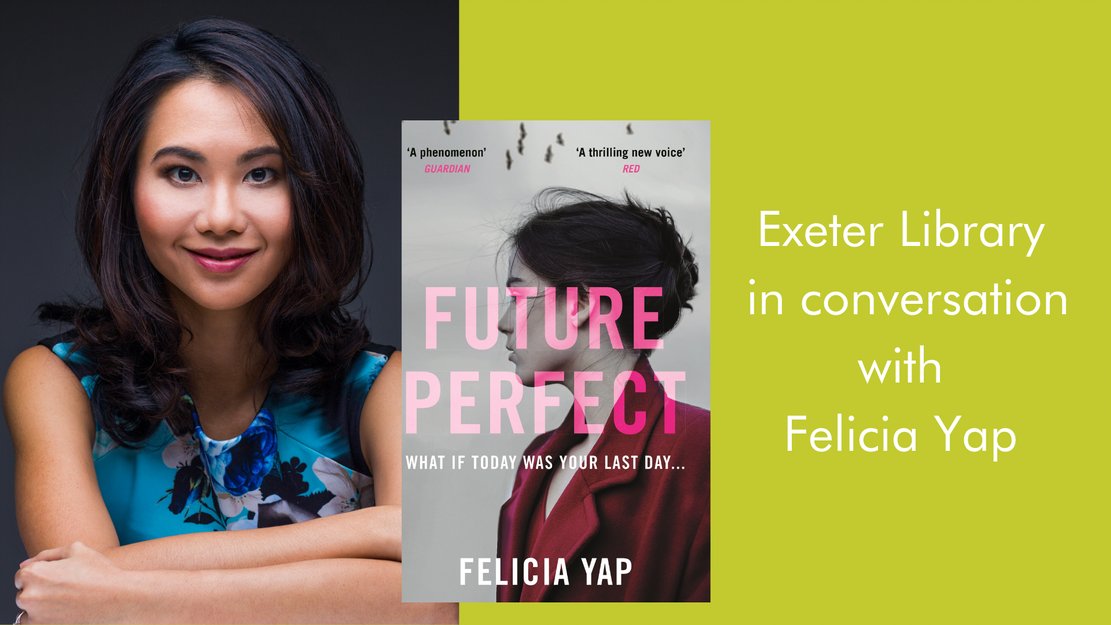 Online Launch of Future Perfect
Thursday 18 March 2021
19:00-19:45 (GMT)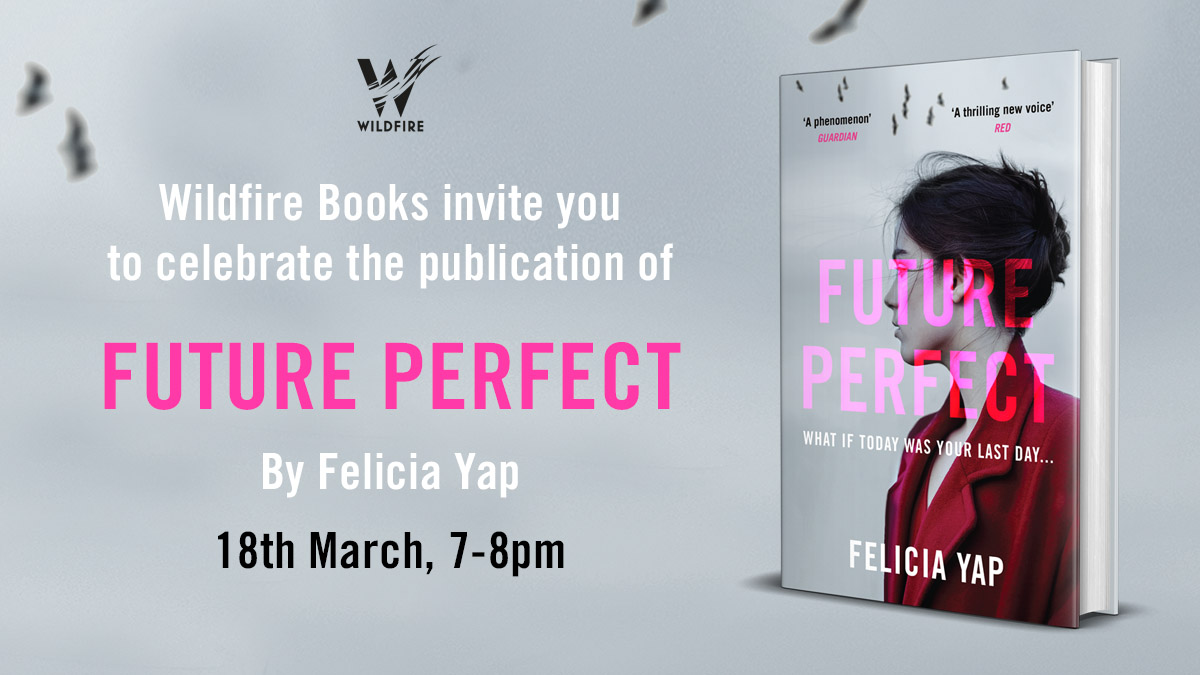 Cryptos (Military, Intelligence & Security)
Monday 27 January 2020
18:45-19:45: Spies, Smugglers & Schemers Behind Barbed Wire
The Library
Reform Club, 104 Pall Mall, St James's, London SW1Y 5EW, United Kingdom
St Catharine's College History Society
Wednesday 27 November 2019
18:00-19:00: Catz40 Alumnae Talks by Claire Darwin & Felicia Yap
Rushmore Room
St Catharine's College, Cambridge CB2 1RL, United Kingdom
Great Exhibition Road Festival 2019
Sunday 30 June 2019
14:30-15:00: Meet the Authors: Yesterday and Tomorrow
Conversation with Derek Yates (Friends of Imperial College)
Lecture Theatre G34
Imperial College London, South Kensington Campus, London SW7 2AZ, United Kingdom
Arvon
Wednesday 12 December 2018
"Fiction: Literary Thriller: Secrets & Suspense"
Lumb Bank, Heptonstall, Hebden Bridge, West Yorkshire HX7 6DF, United Kingdom
Iceland Noir
Saturday 17 November 2018
10:00-11:00: "The Hot-pot" Panel: Felicia Yap, Jeffery Siger, Louise Voss & Stuart Neville, chaired by Karen Robinson
IDNO, 3 Vonarstræti, 101 Reykjavík, Iceland
Noir at the Bar
Monday 22 October 2018
19:00
LHT Urban Bar, 176 Whitechapel Road, London E1 1BJ, United Kingdom
Cooler Lumpur
Thursday 4 October 2018
20:00-22:00: "How to Get Published Internationally" Workshop
Whitebox, MAP@Publika
Saturday 6 October 2018
10:00-11:00: "Fighting the Future: How Reality is Shaping Science Fiction": Felicia Yap, Laura Lam & Haruna Ikezawa, chaired by Mahvesh Murad
Blackbox, MAP@Publika
1 Jalan Dutamas, Solaris Dutamas, 50480 Kuala Lumpur, Malaysia
Yale Book Club
Tuesday 25 September 2018
19:00-21:00: "Yesterday by Felicia Yap"
Century Club, 61-63 Shaftesbury Avenue, London W1D 6LQ, United Kingdom
CrimeFest
Thursday 17 May 2018
13:30-14:20: "Debut Authors: An Infusion Of Fresh Blood": T.A. Cotterell, J.D. Fennell, Olivia Kiernan, Jane Robins & Felicia Yap, chaired by Karen Robinson
Friday 18 May 2018
13:40-14:30: "Domestic Malice: When Your Partner Can't Be Trusted": T.A. Cotterell, Alex Dahl, B.A. Paris & Felicia Yap, chaired by Jake Kerridge
Royal Marriott Hotel, Bristol BS1 5TA, United Kingdom
St Catharine's College Symposium
Saturday 12 May 2018
10:30-11:15: Keynote Speech
Ramsden Room, St Catharine's College, Cambridge CB2 1RL, United Kingdom
Imperial Festival 2018
Saturday 28 April 2018
14:30-15:30: I'll be speaking about Yesterday in conversation with Roderick Rhys Jones (Friends of Imperial College)
G34, SAF Building
Imperial College London, South Kensington Campus, London SW7 2AZ, United Kingdom
Granite Noir
Sunday 25 February 2018
18:00-19:00: "Who Do You Think You Are": Stuart Turton & Felicia Yap
21:00-23:00: "Noir at the Bar": My partner Alex and I will be performing a tango at the bar!
The Lemon Tree, 5 West North Street, Aberdeen AB24 5AT, Scotland
Mathrubumi International Festival of Letters
Saturday 3 February 2018
10.00-11.00: "Fiction Reading (English): Felicia Yap & Bernice Chauly"
Bamboo Grove
14.00-15.00: "Debutants in Action: Why Take to a Profession That is Suicidal?: Deepak Unnikrishnan, Felicia Yap & Sabin Iqbal"
Palace Hall

Sunday 4 February 2018
13:00-14:00: "Writing Fiction in Malaysia and Getting Away With It: Bernice Chauly & Felicia Yap"
Festival Hall
17.00-18.00: "The Murder the Day Before: How to Solve a Crime in a World Without Memory: Felicia Yap, with C.P. Surendran"
Under The Tree
Kanakakkunnu Palace, Sooryakanthi Road, Thiruvananthapuram, Kerala 695033, India
The Future Bookshelf
Tuesday 16 January 2018
18:30-20:30: "The Writing Process": Vaseem Khan, Jen Campbell & Felicia Yap, chaired by Francine Toon
Waterstones Tottenham Court Road, Fitzrovia, London W1T 1BJ, United Kingdom
Royal College of Science Union 2018 Science Challenge Launch
Tuesday 5 December 2017
18:30-20:00: I will speak about my question for the creative writing category!
City & Guilds Building, Imperial College South Kensington Campus, London SW7 2AZ, United Kingdom

Georgetown Literary Festival
Saturday 25 November 2017
15:15-16:15: "Braver Worlds: Visions of the Future/Past": Zen Cho, Intan Paramaditha, Dorothy Tse & Felicia Yap, chaired by Jason Erik Lundberg
Heaven
Sunday 26 November 2017
14:00-15:00: "The Greater the Light, the Darker the Shadow": Azhar Ibrahim, Dina Zaman, Suchen Christine Lim & Felicia Yap, chaired by Sharon Bakar
Earth
Wisma UAB, Gat Lebuh China, 10200 George Town, Penang, Malaysia
Singapore Writers Festival
Saturday 4 November 2017
15:30-16:30: "Writing a Well-Paced Novel": Richard House, Ovidia Yu & Felicia Yap, chaired by Kenneth Kwok
Play Den

Sunday 5 November 2017
15:30-16:30: "Sophomore Blues: The Challenge of the Second Novel": Felicia Yap, Kaitlin Solimine, Jo Furniss & Kirstin Chen, chaired by Darryl Whetter
Living Room
The Arts House, 1 Old Parliament Lane, 179429 Singapore
Kinokuniya Ngee Ann City Singapore
Saturday 4 November 2017
13:30-14:30: Book Signing
391 Orchard Road, Ngee Ann City, Takashimaya Shopping Centre, 23887 Singapore
Kinokuniya KLCC Kuala Lumpur
Thursday 2 November
18:00-19:00: Book Signing
Level 4, Suria KLCC, 50088 Kuala Lumpur, Malaysia
MPH Bookstore Mid Valley
Wednesday 1 November 2017
15:00-16:00: Book Signing
Mid Valley Megamall, Mid Valley City, 58000 Kuala Lumpur, Malaysia
MYWritersFest2017
19:00-22:00: "Festival Finale"
We'll be launching the Malay translation of Yesterday (Semalam) and my translator Zalikha Yaacob and I will be reading from the book
Commune, Sunway Velocity Mall, 78 Jalan Shelley, Maluri, 55100 Kuala Lumpur, Malaysia
MYWritersFest2017
Monday 30 October 2017
19:30-21:30: "10 3/4 Things You Should Know About Getting Published Internationally"
Fono KL, 80C Jalan Rotan, Kampung Attap, 50460 Kuala Lumpur, Malaysia
Off the Shelf Festival of Words
13:30-16:30: "It's All Fiction – Reader's Day"
Saturday 28 October 2017
Firth Hall, Firth Court, University of Sheffield, Sheffield S10 2TN, United Kingdom
Imperial College London
18:00-19:00: "10 3/4 Things You Should Know About Achieving Your Dreams"
RSM 147, Royal School of Mines, South Kensington Campus, London SW7 2AZ, United Kingdom
Bouchercon
Thursday 12 October 2017
08:00-10:00: Author Speed Dating, Grand East Room
Friday 13 October 2017
07:30-9:30: New Author Breakfast, Grand East Room
18:00-19:30: World of Crime Reception, Grand East Room
Saturday 14 October 2017
10:00-11:00: "The Twisted Panel": Plotting, How to Keep them Interested… and Guessing
Jane Cleland, Cate Holahan, Ragnar Jónasson, Linda Landrigan & Felicia Yap, chaired by Paula Munier
Grand West Room
Saturday 14 October 2017
13:00-14:00: "Writers Under 40 Panel": You Could be Reading These Writers for Decades to Come
Guy Bolton, Steph Cha, Loretta Lost, Emelie Schepp & Felicia Yap, chaired by Julia Dahl
Grand West Room
Sheraton Hotel, 123 Queen Street West, Ontario, Toronto, Canada
Jersey Festival of Words
Saturday 30 September 2017
15:00-16:00: "Self-Curating and Fake News" Panel: Miranda Doyle, Felicia Yap & Peter Mourant, chaired by Naomi Frisby
Jersey Arts Centre, Phillips Street, JE2 4SW, Jersey
Rooftop Book Club
Tuesday 19 September 2017
18:30-21:00: "How to Get Published with Byte the Book": Jonny Geller, Alex Clarke, Lisa Jewell & Felicia Yap, chaired by Justine Solomons
Carmelite House, 50 Victoria Embankment, London EC4Y ODZ, United Kingdom
Noirwich
Sunday 17 September 2017
10:30-11:30: "First Monday Crime Presents the Criminal World": Stella Duffy, Felicia Yap & Leye Adenle, chaired by William Ryan
Norwich Arts Centre, 51 St. Benedict's Street, Norwich NR2 4PG, United Kingdom
The Riff Raff September Writers' Meet Up
Thursday 14 September 2017
19:00-21:30: Felicia Yap, Emma Flint, Lydia Ruffles, Hayley Barker & Joy Rhoades
Effra Social, 89 Effra Road, London SW2 1DF, United Kingdom
Bloody Scotland
Saturday 9 September 2017
14:00-15:00: "Alex Gray's New Crimes" Panel: Ian Skewis, Felicia Yap, Mark Hill & Rob Ewing
Allan Park South Church, Dumbarton Road, Stirling FK8 2LQ, United Kingdom
The Brighton Crime Wave
Tuesday 29 August 2017
19:30: An Evening With Tess Gerritsen and Felicia Yap
Brighton Waterstones, 71-74 North Street, Brighton BN1 1ZA, United Kingdom
Margate Bookie
Friday 18 August 2017
19:30-21:00: OFF Book: Matthew Blakstad (Sockpuppet), Felicia Yap (Yesterday) & Molly Flatt (The Charmed Life of Alex Moore)
Morgan's Dance Hall, 46 High Street, Margate CT9 1DS, United Kingdom
Saturday 19 August 2017
12:30-13:30: "Felicia Yap, Yesterday"
OFF Book will present their dramatization of a scene from Yesterday & I'll be joined by my publicist Millie Seaward, who will tell you how book publicists plan their most successful campaigns
Turner Contemporary Gallery, Margate CT9 1HG, United Kingdom
Vanguard Readings
Thursday 20 July 2017
19:30-21:00: I'll be reading from Yesterday!
The Peckham Pelican, London SE15 5PY, United Kingdom
What's Your Poison?
Thursday 6 July 2017
18:30-20:00: Summer Crime Party
Heffer's Bookshop, 20 Trinity St, Cambridge CB2 1TY, United Kingdom
CrimeFest
Thursday 18 May 2017
17:00-17:50: "Twists and Turns: Who Can You Trust?" Panel: Malin Persson Giolito, Catherine Ryan Howard, J.S. Monroe & Felicia Yap, chaired by Fergus McNeill
Royal Marriott Hotel, Bristol BS1 5TA, United Kingdom
Triskele Literary Festival
Saturday 17 September 2016
13:00-14:00: "SciFi and Fantasy" Panel: Eliza Green, Jeff Norton, Yen Ooi, C.S. Wilde & Felicia Yap, chaired by Jack Wedgbury
25 White Lion Street, London N1 9PW, United Kingdom